Dr. Marco Mazzocco
Veterinarian & Practice Owner
Dr. Marco Mazzocco received his Doctor of Veterinary Medicine in 1999 from the Ontario Veterinary College. He also received a Bachelor of Science degree from the University of Guelph.
After graduation he completed an intership in small animal surgery, medicine and critical care at the Veterinary Teaching Hospital at the Ontario Veterinary College. During this intense year of medical training he got the chance to work with world renowned specialists in surgery, internal medicine, critical care, cardiology and oncology.
He has continued his training in Florida and at Colorado State University in Fort Collins, Colorado in minimally invasive surgery and has brought endoscopy and laparoscopy to private practice in Guelph.
His furry family includes two yellow Labrador retrievers and two rescue cats.
Dr. Nickey Brown
Veterinarian & Practice Owner
I've always loved animals, science, and meeting new people, so it was an easy decision to dedicate my life to veterinary medicine. Each patient is important to me and I value the relationships that I build with their families. I focus on preventative medicine and like to think of my style as gentle, warm and caring. Trust is important in this line of work and I don't take that lightly. While they're in my care, your pet is as important to me as they are to you.
I have a wonderful husband, Tim, three great kids, and a house full of pets. Right now we have four dogs, one cat, two birds, and a brood of chickens. There's never a dull moment.
"Be patient, be kind. We are all dealing with life in our own way"
Dr. Matylda Daza
Veterinarian
Dr. Matylda Daza graduated from the Ontario Veterinary College (OVC) in 2008. She was able to have a unique vet school experience completing her DVM degree alongside her sister - who happens to be Dr. Karla! For as long as she can remember she has wanted to be a Veterinarian. She has always appreciated just how important our beloved pets and animals are in our lives. Her goal for every patient is to make a connection with both them and their families providing the best possible care. Since graduating she has gained invaluable experience in client relationships, internal medicine and has a keen interest in surgery and veterinary dentistry.
When not at work Dr. Matylda enjoys her busy home with her 2 young daughters and her cat Freddy, who has been with her since starting vet school. She enjoys the outdoors spending her free time hiking or camping and can also be found cooking and baking. In addition, she is currently working towards obtaining her black belt in Karate.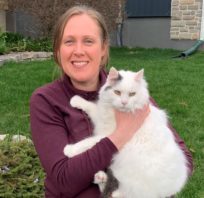 Dr. Karla Janutka
Veterinarian
Dr. Karla graduated from the Ontario Veterinary College (OVC) in 2008 together with her sister, Dr. Matylda! She has wanted to become a veterinarian ever since she was young where her love of animals developed from a great respect of nature and all living things through many family activities and vacations spent outdoors. She treats each patient as if they were her own providing excellent patient care and communication with kindness and compassion. She enjoys all aspects of veterinary medicine but has special interests in preventative medicine, dermatology, cardiology, physical rehabilitation and ultrasound. She also enjoys the continuous learning that is a part of being a veterinarian and attending continuing education conferences. She lives in Elora with her husband, 2 young sons and rescue cat Triggs. In her spare &me she enjoys exploring this beautiful world we live in through activities such as hiking, biking, cross-country skiing and canoeing. She also plays the violin and enjoys playing volleyball.
Krissie
Registered Veterinary Technician
Krissie graduated from Seneca College in 2006 and became an RVT the same year. Krissie enjoys her role as a Registered Veterinary Technician looking after the pets in our hospital. One of the best qualities we see in her is a display of compassion for people and their pets.
Krissie keeps busy looking after her kids Boston and Sadie. She also has two cats named Nyla and Jose and two dogs named George and Buster. In her spare time Krissie can be found relaxing at her family cottage!
Mackenzie
Registered Veterinary Technician
Mackenzie is a skilled and compassionate Registered Veterinary Technician (RVT) at Royal City Animal Hospital. With a deep-rooted love for animals and a passion for veterinary medicine, she plays a crucial role in providing top-notch care to our furry patients. Her top priority is the well-being and comfort of our animal patients. She approaches each case with a gentle and empathetic touch, easing anxiety and making every visit a positive experience for our furry friends. As a dedicated member of our veterinary team, Mackenzie collaborates seamlessly with veterinarians and fellow staff members to provide comprehensive care to our patients. Her exceptional organizational skills and attention to detail make her an invaluable asset in maintaining a smooth and efficient clinic environment. When she's not caring for our animal patients, Mackenzie participates in a variety of hobbies including reading and attending various festivals!
Lauren
Receptionist
Lauren is the first friendly face you'll meet when you visit Royal City Animal Hospital. As our lead veterinary receptionist, she plays a vital role in ensuring our clients and their furry companions feel welcome and cared for from the moment they walk through our doors. She is genuinely dedicated to providing exceptional customer service to our clients and their pets. Her compassion extends beyond her role as a receptionist. She empathizes with pet owners' concerns and ensures they receive the necessary support and information during their visit. Her dedication to creating a stress-free experience for both pets and their owners contributes to the overall well-being of our furry patients. When she's not at the clinic she enjoys spending time with family, friends and the many animals in her life!
Kiara
Receptionist & Animal Care Assitant
Bio coming soon!
Tara
Animal Care Assistant
Tara just recently joined the team at Royal City Animal Hospital as a Veterinary Assistant. She is currently completing her undergraduate degree in Animal Biology at the University of Guelph and has just applied to Seneca college for their vet tech program. Tara hopes to fulfill her lifelong dream of becoming a veterinary technician and canine behaviourist! She spends her spare time looking after all her furry friends at home which includes her two cats (Piper and Felix) and her two dogs (Taser and Zola). Her interests include horseback riding, service dog training, reading, and fishing. Tara is very excited for what the future holds for her here at RCAH.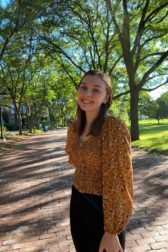 Claudia
Animal Care Assistant
Claudia is a new member of the Royal City Animal Hospital team. She is going into her fourth year of her undergraduate degree in Animal Biology at the University of Guelph. She hopes to pursue a career as a veterinarian in the future and is applying to OVC this year! Claudia has a background working at a veterinary emergency clinic, but she is excited to gain experience working at Royal City Animal Hospital and getting to know the clients. When Claudia is not at work she loves to go hiking, camping, play volleyball, and hangout with her two cats at home!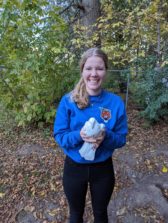 Lea
Animal Care Assistant
Lea joined our team in September of 2022 as a Veterinary Assistant. She is set to graduate with a BSc degree in Animal Biology from the University of Guelph in April of 2023 and plans on completing a Master's degree in animal welfare next. She loves getting to meet all of our patients and their owners. In her spare time Lea enjoys exploring Guelph with her husband and two dogs, loves playing board games, running, and being outdoors. Having grown up in Europe, she spends as much time as she can exploring all the pretty sights Ontario has to offer!
Donna
Professional Groomer
Donna is our professional animal groomer with over 30 years of experience in the industry. She works diligently to groom as many as 10 dogs each day! When she is not working she enjoys the company of her husband, children and grandchildren, as well as her 2 beloved cats. To see more of her work, be sure to check out "Royal City Grooming Centre" on Facebook!
Kira
Professional Groomer
Kira brings with her many years of dog experience. She has been in the Dog Show world starting at the tender age of 8 years. Her love of dogs propelled her to groom them professionally for the past 2 years. Like Donna, she shares a very similar idealology about their customers , 4 legged of course. They want their experience to be stress free, relaxing and fun. Kira is loved at home by her pack, run by Mia...a Snowshoe kitten, Xander...a Nova Scotia Toller, Sadie...a Pointer Cross, Tubbers... a Orange Tabby.... Oh and a human named Jeff.